A Career Success System Helping Schools Produce Career-Ready Talent with Proven Skills
Employers hire candidates who best prove their skills. But, while many students can show what they've completed in school, many can't identify, articulate, or prove their skills in ways clear to employers. CareerPrepped helps schools empower students to connect what they do in school to why it matters in the real world. We help students make all their skills visible and verifiable to employers with authentic evidence.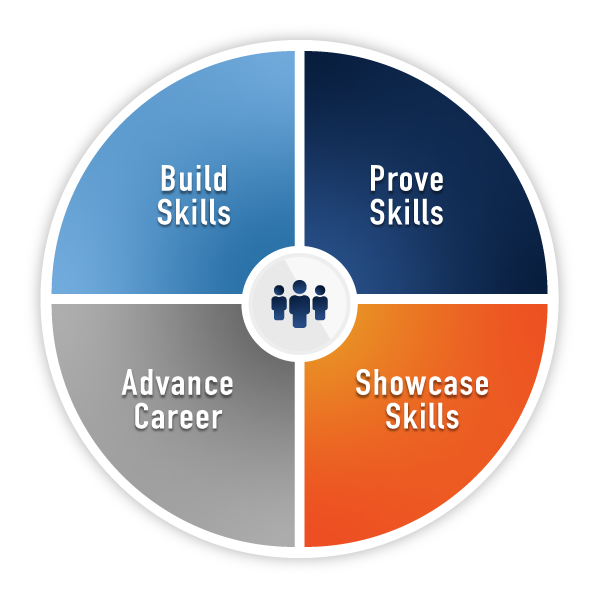 CareerPrepped® Helps You Differentiate
Your Students in a 21st Century Economy
| A Typical Graduate | Your CareerPrepped® Graduate |
| --- | --- |
| | |
| Paper resume is primary self-marketing tool | Has traditional + digital self-marketing tools |
| Transcripts prove completion but not skills | Authentic evidence proves skills |
| No portfolio showing skills & achievements | Digital portfolio shows skills & achievements |
| Learning artifacts trapped in school LMS | Learning artifacts are portable |
| "Soft skills" are hidden and undervalued | "Soft skills" are valued, visible & verifiable |
Help Your Students Build, Prove & Showcase Their Skills

Build
Students use multi-media content, learning activities and virtual tools to help them build employability knowledge & skills.

Prove
Students document their learning and prove their technical & employability skills with authentic evidence.

Showcase
Students showcase their experiences, qualifications & proven skills to tell a compelling career story beyond a resume.
Powerful Career Success Tools in One System
Help Your Students Get CareerPrepped
Skill Builders
40+ self-directed Skill Builders help students build, refresh or strengthen in-demand workforce skills. Make them available to your students as on-demand, self-help resources or embed any into your existing curricula to support hybrid or remote learning.
Skill Badges
Anyone can claim to have a skill, but not everyone can prove it. Skill Badges are an innovative way to help students prove their hidden skills with authentic evidence others can review and endorse.
Career Portfolio
Student's work samples, projects and achievements are a treasure chest of evidence to show their skills and interests. They can save it all in their Career Portfolio as proof of their capabilities and achievements.
Career Site
Students can't get noticed if they're nowhere to be found. Their Career Site gives them a single professional web presence to showcase their qualifications and tell their career story.
Career Toolbox
The Career Toolbox is packed with tools to help students research and explore career information, build tailored resumes on-the-fly and learn techniques to answer common interview questions.
Job Center
From their Job Center, students can search and save jobs, track their progress from application to offer, and save notes on each job.
Career educators create the nation's CareerPrepped workforce.
Let's build and elevate our CareerPrepped community!
CareerPrepped is a subscription service powered by our e-learning partner, MaxKnowledge.
Our members qualify for a subsidized subscription program sponsored by MaxKnowledge.